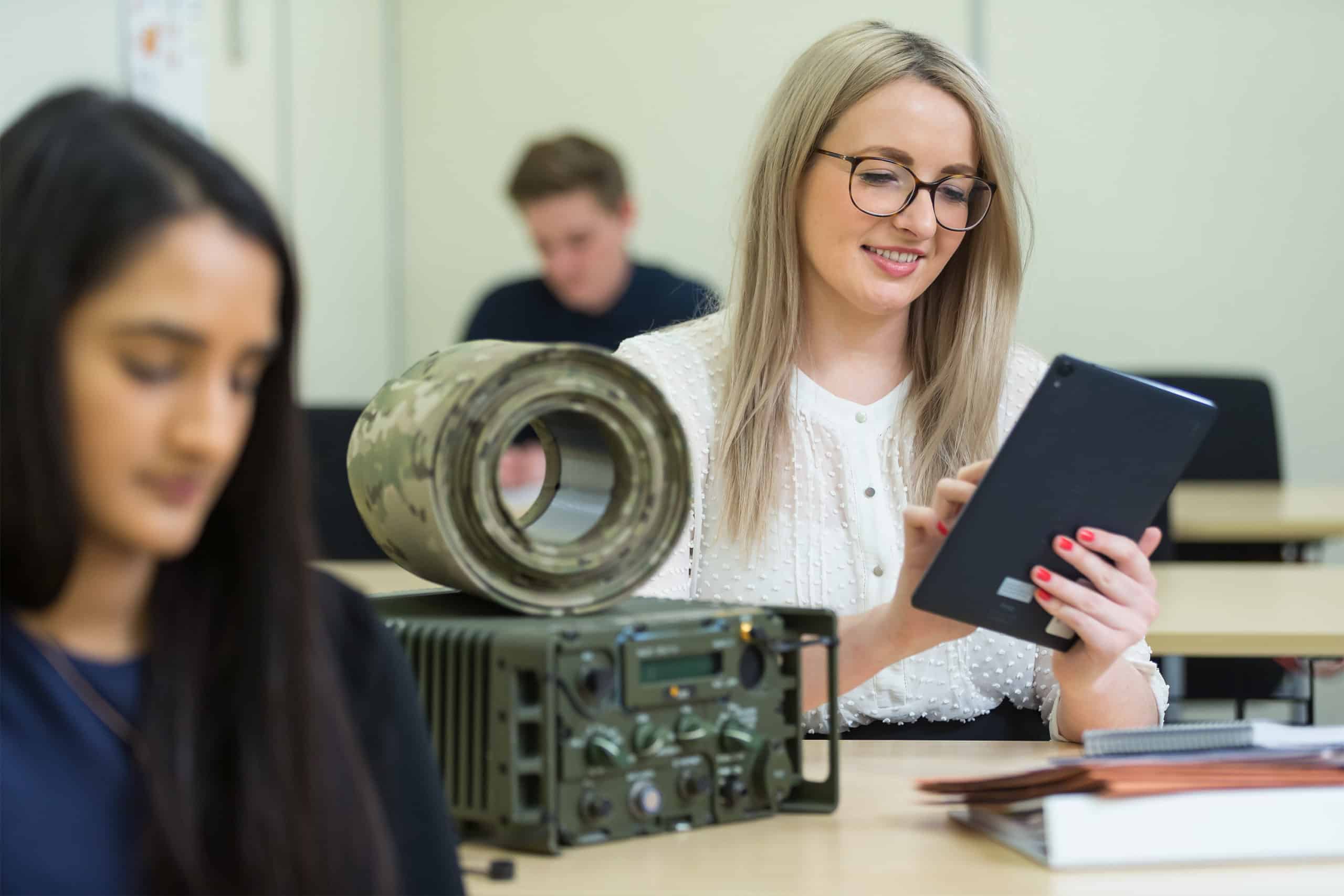 Dynamics by name, dynamic by nature. What sets us apart is a fresh approach that thrives on innovation. It creates an entrepreneurial atmosphere enjoyed by our world-class people.
We are a well-established Company with a firm focus on the future. We are commercially successful and growing fast. Once you talk to us you will see why we stand out from the crowd.
We are world-class but still striving; large but still dynamic; growing but still innovative.
General Dynamics UK has more than 1,400 employees, located across our five sites. Our highly-skilled people relish the fact that we are widely recognised in the defence industry.
They are part of our exciting future. You can be too.
What we do
Pioneering technologies and the quality of our people give us our edge. As a prominent prime contractor and complex systems integrator, we provide network enabled solutions for the UK Ministry of Defence.
In the UK we are structured around two main businesses: Land Systems and Mission Systems.
Our solutions include:
Armoured Fighting Vehicles (AFV)
Avionic systems
Communication systems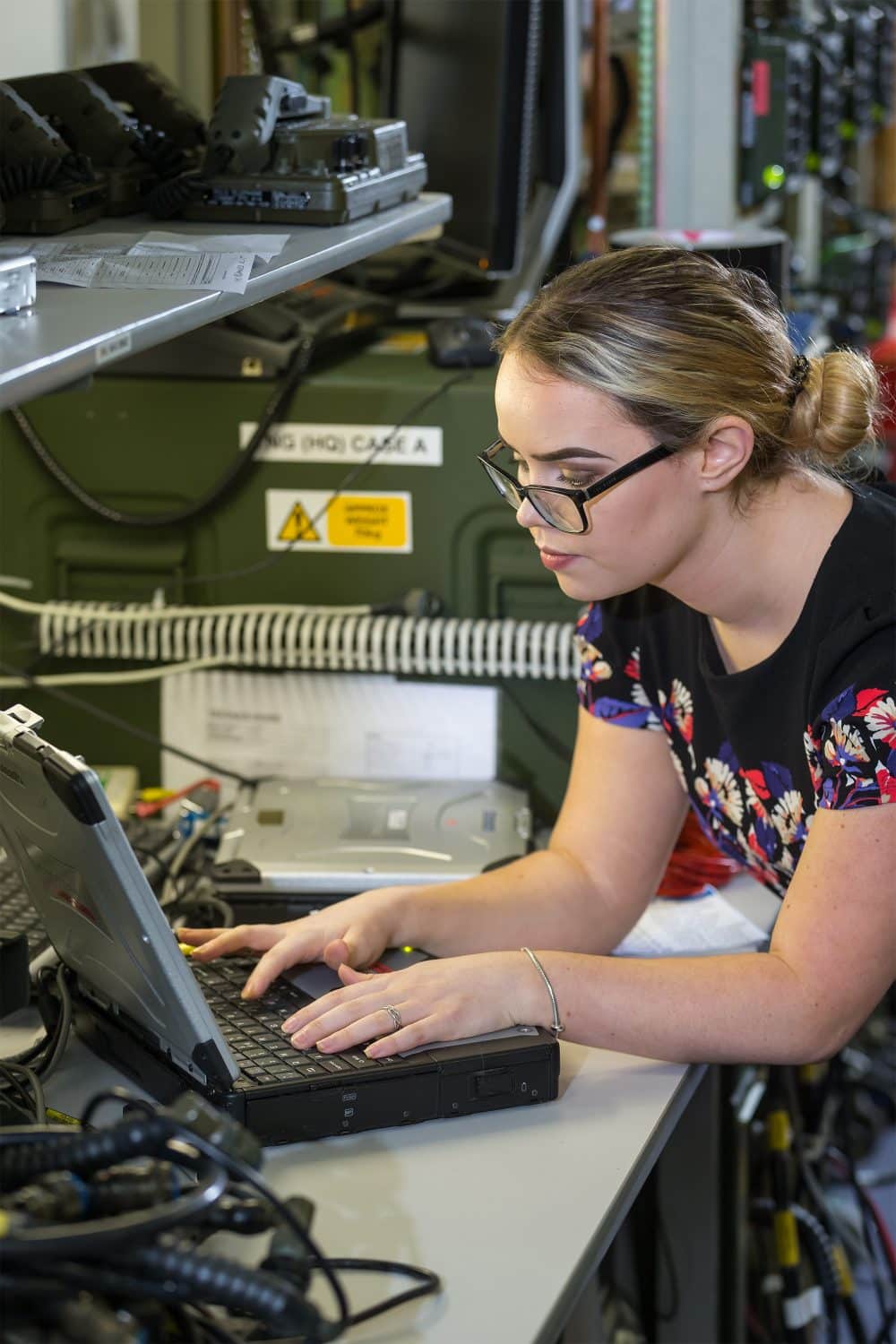 Your career with us
We value our world-class people and show it through extremely competitive compensation and benefits.
We know that doing a good job is rewarding in itself, but we also respect talent and offer a highly competitive package with rewards that match your achievements as you progress through the Company.
We can tell you more about all this during the interview process, but rest assured we look after our people.
Find out more about working with General Dynamics UK here.
Employee benefits
Our sites offer flexible working, which includes the option to work a compressed working schedule – work 75 hours over nine days, and take every second Friday off.
We operate a flexible benefits scheme which allows you to adapt your salary and benefits package to suit you and your family.
Benefits include a generous holiday allowance, life and health insurance, an employee assistance programme and a lifestyle package offering discounted goods and services.
Among our voluntary benefits are private medical cover, critical illness and personal accident cover, health checks, childcare vouchers and a salary sacrifice pension scheme. We also offer Sharesave and Give As you Earn scheme.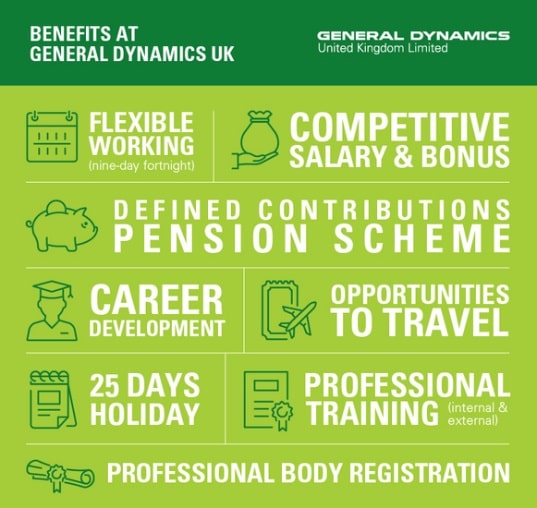 Partnership in your development
Investing in first-class training and development is an investment in our future.
At General Dynamics UK the high standards we set ourselves are reflected in our approach to growing our people. We believe that your development is a partnership – a shared responsibility between you and the Company. It begins the day you join and continues for as long as you stay:
A personalised development plan and regular progress reviews
Professional training and development courses – internal and external
Secondments for hands-on business and technical experience and learning
Further and higher education support to gain additional or professional qualifications
We also currently run a Chartered Engineering Programme to support engineers to achieve professional registration with the UK Engineering Council as an IEng (Incorporated Engineer) or CEng (Chartered Engineer).
We encourage females to take on STEM subjects via our Graduate Scheme, as well as actively recruiting for female engineers.
We are keenly aware that there is much effort and energy from many areas of government and education to encourage young women of school age and other women into the STEM sector, as a key enabler of closing the gap.
As a whole, the UK needs to significantly increase the number of people with engineering skills and we see taking action to increase the number of women entering engineering as a profession as a positive step to address this shortfall. We are committed to making positive change through a number of different actions: (https://www.generaldynamics.uk.com/gpg/actions/)
Diversity & Inclusion
At General Dynamics UK, we believe in maintaining a diverse workplace – inclusive of beliefs, cultural background, job experiences, thoughts and ideas. We support a culture of inclusion that encourages a work environment that honours diverse opinions. We are committed to promoting diversity of thought, experience, perspectives and capabilities.
General Dynamics UK is a Disability Confident Committed employer.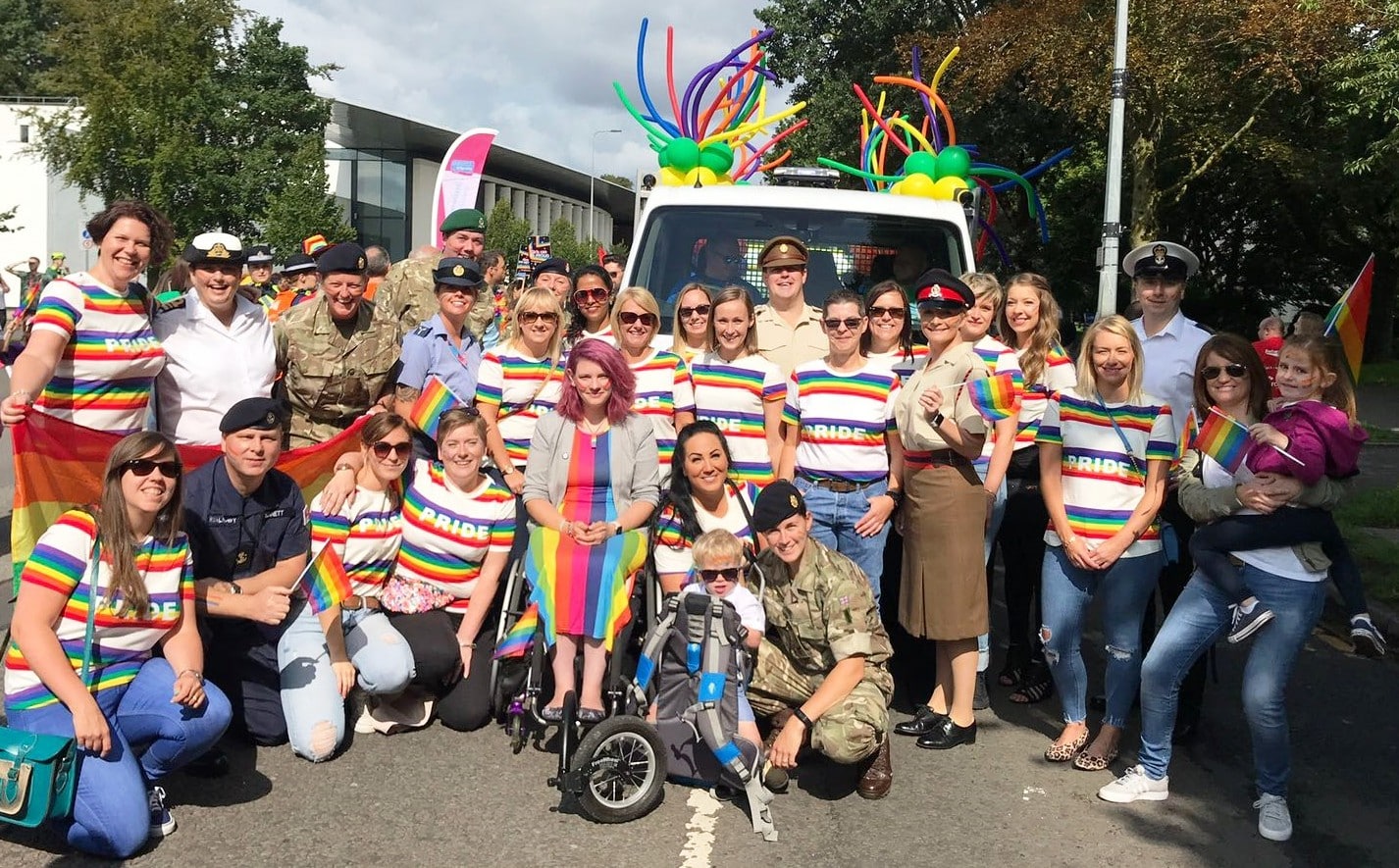 Find out more about working with General Dynamics UK here.