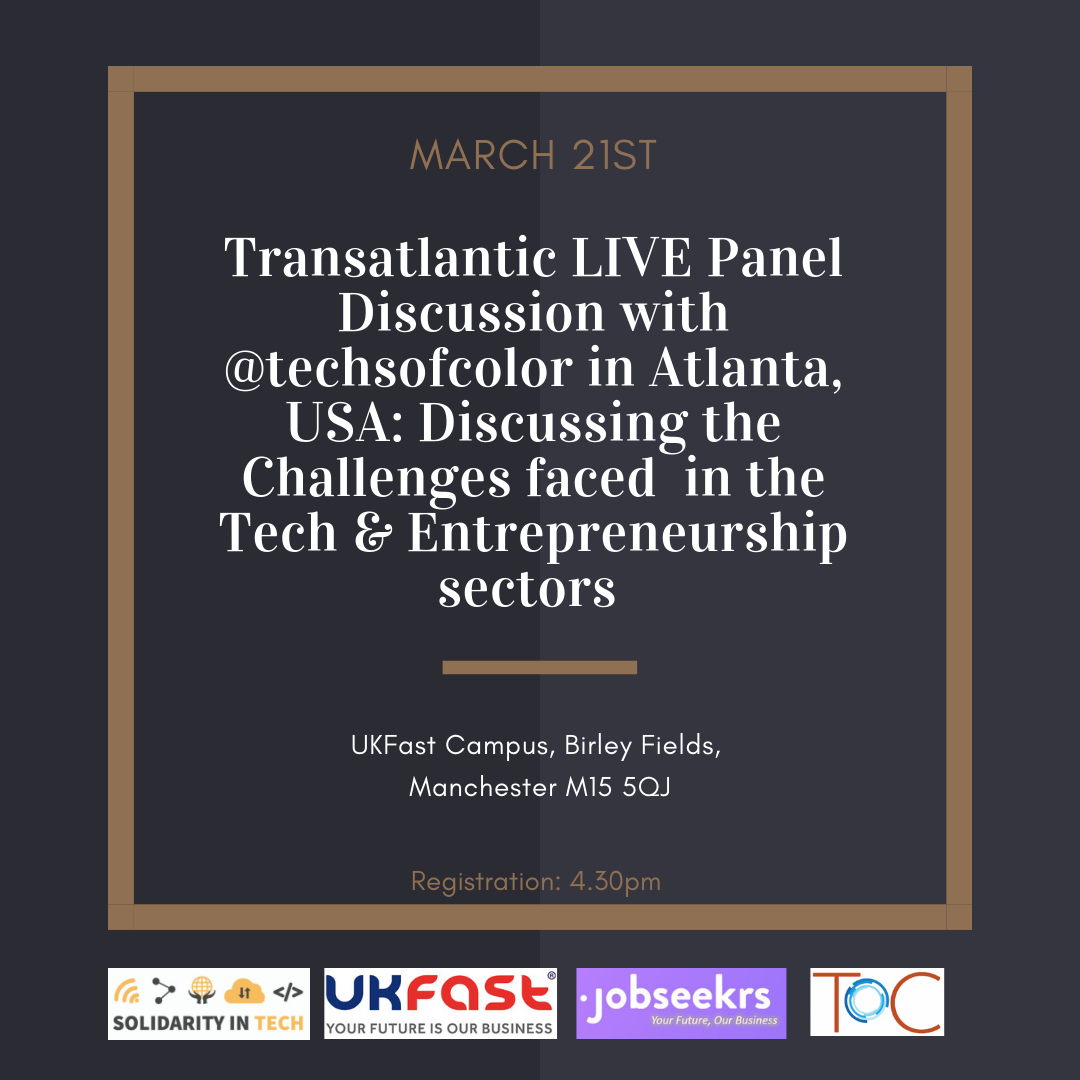 An exciting start to 2019 as Solidarity In Tech kicks off their first event on the 21st of March at 4.30pm sponsored and hosted by UKFast, Manchester.
A LIVE dual-panel TransAtlantic discussion in collaboration with Techs Of Color (Twitter: @techsofcolor) based in Atlanta, GA USA. This panel discussion will focus on the barriers when entering and progressing within the Technology & Entrepreneurship sectors, both as entrepreneurs and in the corporate world. This will see 2 panellists in (Atlanta) USA and (Manchester) UK, discuss the issues faced within our communities, take questions from the audience and online community. This is followed by a fireside chat on proposed solutions to overcome these challenges and much more. It is set to be an exciting and informative event with great potential for networking and building partnerships within the ecosystem.
Solidarity In Tech is an ALL-INCLUSIVE space with a particular focus on issues surrounding diversity & inclusion within Minority Groups (ethnicity, gender & neurodiversity) #SolidarityInTech
Please register attendance below:
https://www.eventbrite.co.uk/e/transatlantic-live-panel-discussion-with-techsofcolor-in-atlanta-discussing-the-challenges-faced-in-tickets-55972954614
Panel:
On the UK-side, we have Dr. Marilyn Comrie, OBE FRSA;
IN4.0 Fellow, Award-winning serial entrepreneur, Diversity & inclusion development specialist and former Wigan Vice President of the Greater Manchester Chamber of Commerce.
In the US-side we have; Joy Stephens, Diversity & Inclusion Consultant and professional life coach
She began her career as a Systems Engineer with Proctor and Gamble.  She later spent over 18 years with Kimberly Clark. She started there as a Research & Development Scientist and then expanded into management and leadership roles within the company culminating with a position as a Regional Sales Manager.
Jovonni Pharr, Security Analyst, Data Scientist, Engineer, Ph.D. Student
Jovonni Pharr is a software/hardware engineer with a focus on Research & Development (R&D) in emerging technologies. He enjoys building solutions in Electronics, Materials Science, and Intelligent Systems. Some of his research focuses on areas in Computer Science, Human Behavioural Psychology, and Artificial Intelligence.