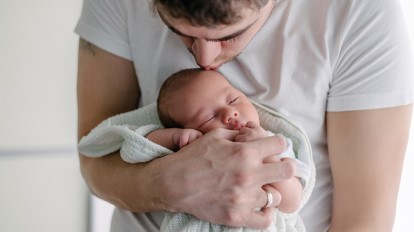 Though it is the mums who give birth, it isn't surprising that maternity leave is seen as more important than paternity leave. But some evidence has shown that fathers who take paternity leave when their child is born can bring benefits to their relationship and child's development.
Around 90% of UK fathers take some sort of leave near the time of their child's birth, whether it be annual leave or leave they're entitled to, research has shown that this can bring several benefits to a family. According to an English survey, mums whose partners had taken no leave were more likely to feel ill or unwell after three months and mothers with more than one child whose partners didn't take leave were more likely to suffer with post-natal depression.
It has been found that dads who take paternity leave are more hands on with their child and are 25% more likely to change nappies, 19% more likely to feed their 8-12-month-old babies and to get up during the night. It has been found that this kind of parental involvement, if established early enough can last through toddlerhood. Children are also less likely to have development problems if fathers take paternity leave as they are more likely to be breastfed at two, four and six months of age.
What is paternity leave?
Paternity leave is a period of 2 consecutive weeks that parents or fathers can take after the birth of their child.
Eligibility
You will be eligible to take paternity leave if you are:
The father
The husband or partner of the mother – this includes same sex
The child's adopter
The intended parent – if the baby is through surrogacy
You cannot get paternity leave and pay if you have already taken paid leave to attend adoption appointments. However, you are eligible to take paternity leave if you are:
An employee
Given the right notice period
Have been in continuous employment for at least 26 weeks up to any day in the 'qualifying week'
To be eligible to receive paternity pay, you must:
Be employed by your employer up until your baby is born
Earn at least £116 a week before tax
Have been employed by the same employer for at least 26 weeks up to any day in the qualifying week.
If you unfortunately lose your baby, you are still eligible for paternity leave and pay if your baby is still born from 24 weeks of pregnancy or if your baby is born alive at any point during the pregnancy.
If you are not eligible for paternity leave then your employer should inform you of this within 28 days using form SPP1.
Paternity Pay
The weekly statutory rate of paternity pay is £145.18, or 90% of your average weekly earnings, whichever is lower. You will receive any money the same ways as you receive your wages, whether that be monthly or weekly.
The money will be paid into your account whilst you're on paternity leave. Your employer must confirm the start and end dates of for your paternity pay when you claim it. If you want to change the start date of your paternity leave, you must give your employer 28 days' notice. Your employer may have their own paternity scheme that they provide to which you may be entitled more paternity pay, however that cannot give you below the statutory amount.
Paternity Leave
As a father, you can either take 1 or 2 weeks of paternity leave. However, if you have twins you get the same amount of leave as your partner. A week is the same amount of days you work in a week. For example, if you work Thursdays and Fridays, then your week is only 2 days. You also must take all of your paternity leave in one go.
Paternity leave cannot start before the birth of your child, but it must end within 56 days after your child's birth. You do not need to give a precise time when you want to take your paternity leave, but instead you must give a general time, for example the day of the birth or the first week.
You are entitled to take unpaid leave to accompany a pregnant woman to 2 appointments if you are:
The baby's father
The moths spouse
In a long-term relationship with the mother
The intended parent – if you are having a baby through

surrogacy
You are allowed to take up to 6 and a half hours per appointment, however your employer may choose to give you longer. You are also entitled to leave immediately if you are a permanent employee. If you are an agency worker, then you will need to be doing a job for 12 weeks before you can qualify to take paternity leave.