Andrew Wilday discusses using assistive technology, his recent promotion and how he feels supported at DWP Digital.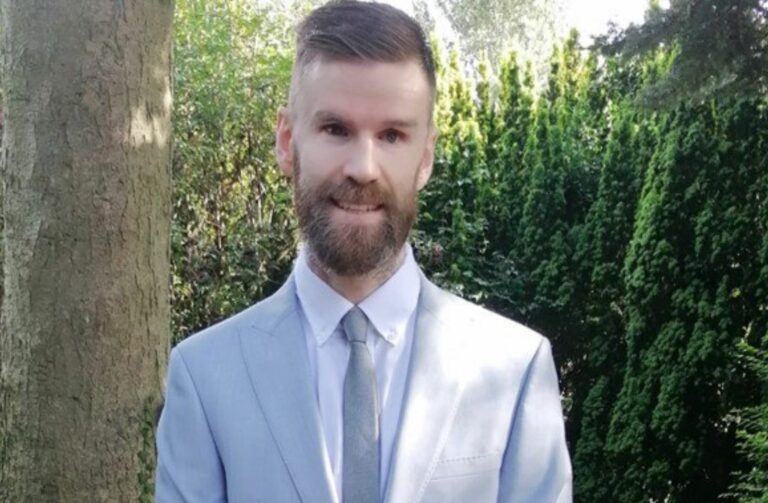 1. My role in DWP Digital
I've recently been promoted to Product Manager, having worked in DWP Digital for 6 years. This role is based in Data and Analytics, where the service aims to combine metadata from multiple business lines into a central business glossary and data catalogue, to support better analysis, increase efficiency and remove duplication in our data management and governance processes. Working on such a data focused service is new to me, so I'm looking forward to making an impact and I can already see how I can add value.
In my role, I set the vision and strategy for the team, giving high level goals to work towards. Provided I can articulate the business benefit, I don't need to know every single technical detail, that's the role of the DevOps team. As a Product Manager, broadly speaking, I just need to know if we're going to achieve our outcomes and add value to our users, and if we're not, what is going wrong, and how I can steer us in the right direction.
I'm very passionate and ambitious; my visual impairment is not going to stop me from succeeding.
2. My visual impairment
I was born with a type of eye cancer call retinoblastoma. The way I was diagnosed is kind of interesting, my parents were looking at photographs they took of me when I was a baby and they noticed I had one red eye in every photograph and began to worry. Eventually I was seen by a consultant where I was diagnosed at 18 months old.
In order to prevent the spread of the cancer, they had to completely remove my left eye, and I also lost some of the vision in my right eye.
3. Assistive technology
At first, I was very determined not to use assistive technology, which is technology to help people with disabilities. I worked in DWP Digital for 2 years before using it. Having grown up in a regular school, loving playing football with my friends and having always fitted in, I've been very stubborn my whole life that I can cope without it.
But, when I finally made the choice to use it, it was one of the best decisions I've made.
I use ZoomText, which is basically fine tuning how much you can zoom into the screen, allowing me to adapt websites and programmes. It's really adaptable with being able to change the text and mouse cursor and I've learned how to tailor it so that it works for me.
I also use a screen reader; where you hover over text on a page, and it reads it out loud.
In the early days, I was also assigned a buddy from DWP Digital who was really clued up on the assistive technology. I could ask any technical questions or if I had any problems, I had a direct route for support. That was really valuable. In my personal experience, colleagues in DWP Digital have been nothing but positive. Everyone has been really supportive and accepting.
The quality of my work has definitely increased a lot since using assistive technology. I did not realise until afterwards that I was actually making quite a few mistakes when writing and my colleagues were being really forgiving.
Beforehand, I used to finish work with bad headaches from straining my eyes to look at the screen all day, I would be so tired. It really affected not only my quality of work, but my quality of life.
4. Getting my promotion
Since using ZoomText, I have been able to gain 2 promotions. There's lots of different factors that contribute to getting a promotion, but I do not think I would have got promoted if it was not for embracing assistive technology.
It has allowed me to cut those unnecessary errors out which may have held me back. There is no way that an application with loads of spelling mistakes and typos is going to be taken seriously.
Also, DWP Digital have a Disability Confident Scheme. This is where, if you meet the minimum criteria, you are guaranteed an interview. It's really positive as it supports people with disabilities and gives us a fair chance to showcase our experience and skills.
One of the unique barriers for me is that if I can avoid going on camera, I will at all costs. The key reason is because I sit really close to my screen in order to view it clearly, so other participants get an extreme closeup of my face. In an interview, it's mandatory that you go on camera so the interviewers can see your body language.
If I sit far enough back, where I am visible to interviewers, I cannot see my screen. This makes interviews more difficult as I cannot see their natural reaction to my answers to help with my confidence.  I also would not be able to see my slides for elements that involve delivering a presentation, which puts me at a disadvantage.
The first thing that happened in my interview, when I mentioned my visual impairment, is that they asked me if there was anything I needed them to do from an accessibility point of view to make it easier for me.
They then adapted for me, allowing me to do the presentation section whilst not being on camera.
The interviewers were really good with saying "absolutely" to not having my camera on. They explained that their focus would be on the content of the presentation, and it really helped calm my nerves. It meant I was not having to worry about unnecessary things, like getting distracted by an extreme close up of my face on camera.  I was able to concentrate on what I was saying instead.
If they had not made adaptions for me, I'd have had all these other things to think about that someone who hasn't got visual impairment doesn't have, which would have put me at a disadvantage. Allowing me to not be on camera for that section, did level the playing field and I felt like was treated fairly.
I'm glad that I work for an organisation who recognises barriers like this, that make life harder for disabled people. By removing this barrier, it felt like I had an equal chance.
5. Supportive community
DWP has loads of networks to support colleagues, including a community of over 100 members in the Blind and Visually Impaired Network.
The network has helped me to realise that we all face similar barriers, but we all have a positive outlook, and we are all determined to succeed.  It's really inspiring and empowering hearing what my colleagues in the network have accomplished. It gives me perspective and helps me focus on what goals I can achieve, rather than dwelling on what limitations I have.
Hearing their stories was life changing, I heard about the impact using assistive technology was having on their lives and this is what encouraged to me look into it for myself.
6. Embrace technology and share your story
If I had one message for anybody that was trying their best to cope without assistive technology, it would definitely be embrace it. It's going to make a positive difference.
It's not admitting a weakness, it's not demonstrating that there's something wrong, or cheating the system. It's just technology that gives you the help and support you need. It's actually a sign of strength because you'll become better at your job as a result of getting that help.
I wish I could tell my younger self to accept and embrace my disability, stop trying to be stubborn and stop trying to be the same as everyone else. You're not. These things are in place to support you and get you on a level playing field. You shouldn't have to put in twice the effort just to deliver the same as everyone else. Assistive technology and adaptations for disabled people would not exist if there was not a need for them.
The other advice I'd give, is to speak to people that are going through similar issues to you, like I did by joining the network. I'm a huge advocate of people sharing their stories, it may help someone else realise that they can overcome their barriers given the right support.
Being disabled shouldn't stop you from succeeding, and in DWP Digital I feel supported and enabled to.
Find out more about a career at  DWP Digital.