We interviewed Joe Tetley, IT Service Manager at DWP Digital on his experience being openly gay and autistic, and his thoughts on diversity in tech.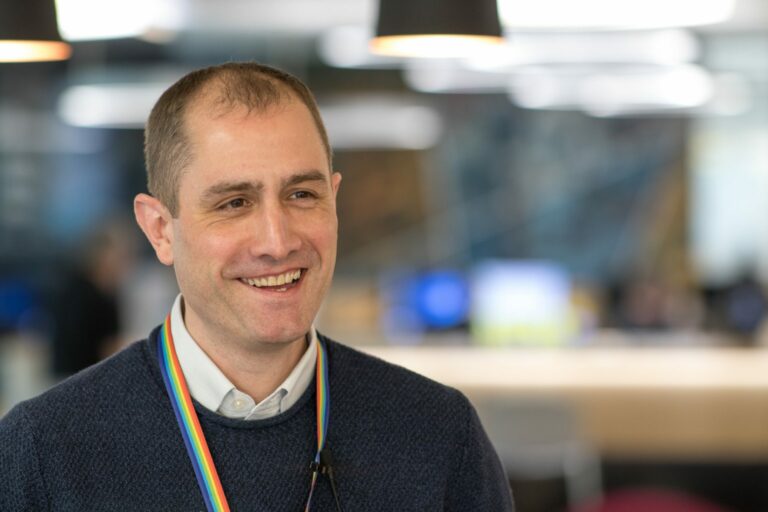 What does your job role involve?
I'm an IT Service Manager working in Service Request Management. My team are responsible for the end-to-end request fulfilment process that enables our colleagues to request the services, equipment, and software they need.  We get in the region of a million requests per year.
I mainly look after the access management side, ensuring that the items in our online catalogue are up to date and that the processes behind them are running smoothly.  This includes getting involved in projects to optimise and automate, shifting work left into our team and continual service improvement.
What we do is critical to ensuring that our colleagues have the access they need to be able to deliver our services to citizens.  There are 34 people in my team and the wellbeing of my colleagues is paramount.
What made you choose a career in technology?
It happened a little by accident.  My first full time job was answering freephone numbers for BT. I then got a temp job for a council building a database of roads to comply with New Roads and Streetworks Act.  When that finished, I was offered two other roles – one in IT and one for Searches (e.g., when you buy a house).  The IT team seemed slightly boring, so I chose Searches!  From there I went to work in customer service for CompuServe who at the time were the largest Internet Service Provider in the UK.
Following that I went through the Service Desk route, before getting involved as an Application Support manager and have done various bits of project management, business analysis and development.
In 2018, I needed a change, so I applied to join BPDTS who were a technology arm set up by DWP to attract people the civil service sometimes struggles to recruit.  I lacked confidence to apply for a senior role, so I took a slight pay cut to join. I realised the benefits and development opportunities were worth it.  We were part of a TUPE transfer into DWP Digital in 2021, I was already embedded into a great team and wanted to stay.
Did you study an IT or technology related subject at A-Level or University?
Yes and no – I was science based.  I was the last year of O-Level and took computer studies.  For my A-Level Geography project, I wrote a computer program to crunch the stats.  At university, I studied Geography and Geology – I wanted to do computer science in my first year but had to take a chemistry module instead.  Afterwards I took a postgrad qualification in Applied Statistics with Computing, mainly as it was fully funded rather than a deliberate career choice.
Do you think there is a lack of diversity in the IT and tech sector?
Yes, but I think it is getting better with things like STEM and women in tech initiatives. Senior roles across the industry tend to be less diverse, hopefully this is starting to change.
What do you think the main issue is with the lack of diversity?
At a conference once, someone displayed a bell curve saying if you design for both ends of that curve, then you capture all the people in the middle.  To do that, whether it's a system or a process, you need to include people from all walks of life in the venture.  With a variety of different ideas and perspectives, you are more likely to end up with an inclusive product.  You can't have diversity without inclusion and excluding people who don't fit the societal norm means they won't use your product, won't make it through your recruitment process or may not engage with your company at all.
Tackling the issue is complex, there needs to better education and encouragement for all, recruitment processes need to be improved, working environments need to be more flexible or adaptable to accommodate those of us with different needs.
Did you experience any barriers getting into technology?
Tough question – my instinct is to say no, but on reflection yes.  Many job adverts aren't specific or clear on what they want.  I won't usually apply, unless I think I fit all the criteria and I have a clear idea of the role.  Once through the application process to interview, you then need to promote yourself which I'm uncomfortable with.  One of the best pieces of advice I was given, is that an interview is a two-way process.  I need to prove that I can do the job and that you want to employ me, but the recruiter also needs to convince me that I want to work for them as well.  It's not always easy to do that unless you're in a position of privilege where you already have a job and are confident in yourself.
I've done all sorts of technical courses throughout my career as part of my job including lots from Microsoft, but most companies didn't pay for the exams, and I couldn't afford to pay myself.  I sometimes regret that, as I could have ended up in more technical roles with those qualifications.
What does diversity and inclusion mean to you?
It's about being able to be myself, being understood and accepted.  I find it easier to be completely open and I hope that sharing my experience helps others.  I'm gay and I'm autistic – neither is something I can change, nor want to.  Being heard, listened to, and allowed the freedom to make my own decisions is important.
I've volunteered with various organisations over the past 30 years and carried this experience into the diversity and inclusion group in BPDTS. I chaired the working group and I spoke at all colleague conferences about building an equitable, inclusive working environment.  Following my transfer into DWP I joined DWP Pride, our LGBT+ network.   I also joined up with the Tech Services engagement group.  I'm currently involved in workstreams addressing bullying, harassment, and discrimination, as well as trying to promote inclusive learning opportunities – whether you want to keep your skills current or whether you are looking to progress.
Small things can make a difference.  I try never to move someone's 1-1, doing so suggests something else is more important than they are.  I will drop out of a meeting to try and help if someone has a crisis or is upset.  I try to involve people in meetings and decisions where I can.  Sometimes just listening and trying to understand is the most inclusive thing you can do.
Have you ever experienced discrimination in the workplace? If so, how did it make you feel?
I've witnessed discrimination based on age, gender, and race – trying to address issues when they've cropped up.  For example, in a previous company a line manager told me they wouldn't take on a school leaver, and once I was asked not to recruit anyone with a 'z' in their name.  I highlighted that this wasn't the right thing to do, I would follow the process and recruit the best candidate for the role.  It's totally unacceptable to me that I even had to say this.
I'm unsure if I've faced discrimination myself.  My autism diagnosis is recent but made a great deal of sense.  I do sometimes look back and reflect. For example, the last interview where I didn't get the job, the feedback included that I talked for too long about one subject and didn't infer something which wasn't in the question, this relates to being autistic.  I wasn't diagnosed at the time though and hadn't asked for any adjustments.  I once worked for a smaller company and felt distinctly uncomfortable as the only LGBT+ member of staff.
I know there are times where I struggle to communicate my ideas in the right way and it can be hard for people to understand what I mean, so I can feel ignored.  Even knowing the right time to interrupt or share an idea can be problematic.
My team in DWP Digital are very supportive and sharing that I'm autistic hasn't been an issue.  They understand the things I may have issues with, for example, that if I'm not at the same desk in the office it can throw me out of kilter so they will try and save it for me.  That now when I say I'm tired, it can mean that sensory issues I have are amplified or that I'm less able to deal with my normal background level of stress.
Within DWP Digital, I've joined the Neurodiversity Community Network, Disability Listening Circle, and the cross-government ADHD/Autism Support Group so I have more support. I can learn from other people's experiences, hear how others deal with circumstances and understand better if that would help me.  There were things I was already doing like colour coding my calendar, not accepting same day meeting invites (unless urgent), asking for an agenda for meetings, getting information in bullets and ensuring I had time to reflect on major decisions.
I'm exploring what other support I might need with my manager.  It would help me, and I suspect others. Just being considerate and asking what would help. For example, sticking phones on silent and moving that conversation away from the end of my desk and into a collaborative space.  Sometimes it is the small things that can make all the difference.