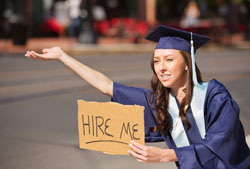 What should I be doing in order to get the IT Graduate job I'm after?
Many graduates find themselves in their final year having not considered what they want to do when their time at university ends and being too swamped down with dissertation writing and revision for final exams can distract them from this. Here we take a look at what you should be doing and when throughout your time as an undergraduate in order to land your dream IT Graduate job.
First Year
Moving to university is a big change for most people, and so it is important to take time to settle in, however, you do need to keep in mind that you are there to improve your career prospects, so you need to be thinking about your long term goals.
A good idea is to use this first year as a research year. Take time to think about which of your modules appeals to you the most and how you could use this in a career. Talk to students who are studying similar subjects to you, but further in to their university career to find out about their opinions and any opportunities that they took advantage of, you can too. You can also attend the careers fairs and talk to recruiters that visit the university. If you have access to professionals in your preferred industry, it is also a good idea to talk to them about their responsibilities and day to day lives.
Second Year
In your second year it is important to be seriously thinking about ways in which you can make yourself stand out from the crowd when you start applying for IT Graduate jobs next year.
Over half of graduate recruiters have made it clear that without experience, you are likely to be less successful in the recruitment process. This means you need to get industry relevant experience. Although IT is a hard industry to find internships and work placements, it is possible and by making the effort to sacrifice your summer you will demonstrate real life experience, key skills and importantly, motivation and interest in your field. You can find internships by talking to your university careers centre, speculatively approaching companies, or by searching on Job Boards. Keep in mind that deadlines for internship applications are often set in November or December – so you need to move quickly!
Other ways of gaining experience include a year in industry. This option is available to many doing 4 year courses and is a great option as you gain a lot of workplace experience and finding the job is usually facilitated by your university.
Part time jobs at the weekends or in the evenings are also hugely beneficial on your CV. For those looking for a career in IT and with a basic knowledge, there are many1st line support jobs that will happily accept undergraduates.
Final Year
As a final year student, your university work load is going to be heavy, and unfortunately, now is this time when you need to be applying for IT Graduate jobs, unless you were lucky enough to secure a job offer as a result of a year in industry or internship. If you don't have a job offer and are keen to get an IT Graduate jobs that starts in the summer of your graduation then you will need to be looking and applying for jobs almost as soon as term starts. October and November are the two busiest months for careers fairs and seeing recruiters on campus. This is in preparation for a flood of IT graduate jobs applications deadlines that tend to come in December and January.
You can find out about IT Graduate jobs through your university careers centre, however the best way to explore a large number of opportunities most efficiently is by registering with a job board such as IT Graduate Jobs (part of the Technojobs Network) as they have hundreds of It graduate jobs available monthly from some of the UKs top employers.
Find IT Graduate jobs here.