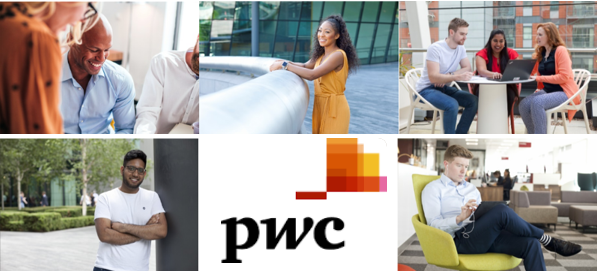 ---
About PwC
Your career is just that; yours. You choose it. You live it. You make it happen. To get the best
from it, you need the best opportunities. That's why opportunities are at the heart of a career
with us. Opportunities to grow as an individual, to build lasting relationships and make an
impact in a place where people, quality and value mean everything.
What we do
We're one of the world's leading professional services organisations. From 158 countries, we
help our clients, some of the most successful organisations on the globe, as well as its most
dynamic entrepreneurs and thriving private businesses, to create the value they want. We help to measure, protect and enhance the things that matter most to them.
What we offer
• Dress for your day
At PwC our culture drives our success and gives us a sustainable advantage, and we want to
create an environment where our employees feel empowered to work in a way that works best for them and help them become the best that they can be. To support our flexible work environment we've evolved our dress code policy to "dress for your day". This policy reflects the trust we have in our employees to decide what they think is appropriate given their daily responsibilities.

• Flexible Talent Network
We're looking for talented professionals we can deploy on a recurring basis across all areas of PwC, depending on our business needs. The way you work is up to you, whether that's full-time, part-time, term-time or reduced hours, just let us know and we'll try and match you to a suitable role. As well as wide ranging opportunities across our business, we have a specific need for qualified accountants to work during our busy season and a programme supporting those returning to work after a break.
Where you could work:
Assurance
Consulting
Financial Advisory/ Deals
Human Resource Services
Internal Firm Services
Legal
Tax
Technology
Our values and behaviours
As a leading professional services network, we're confident we can offer outstanding training and development opportunities, exposure to multi-disciplinary teams, and support from industry-leading experts. Discover where your talent could take you and join an employer focused on helping you reach your full potential.
Take the opportunity of a lifetime
Apply: www.pwc.com/uk/careers
Like: www.facebook.com/PwCCareersUK
Follow: www.twitter.com/PwC_UK_Careers
Follow: https://www.instagram.com/pwc_uk_careers/
Join: www.linkedin.com/company/pwc-uk/careers
Watch: www.youtube.com/careersPwC